Longtooth menu
Eat In or Take Out
Thursday to Saturday - Noon to 9pm | Sunday Noon to 8pm
Call 343-261-2337 To Order
Snack-A-Tizers
Soft Pretzel - $4
Locally made soft pretzels, warm and served with Longtooth Grainy Mustard.
Single Dip - $7
Choose one of our dips from the Hat Trick. Served with in-house pita and fresh veggies.
Beef and Cheese - $8
Our in-house pita bread, smothered with beef and cheese, baked and served open face.
Pizza and Chicken
Pep and Cheese - $17
Keep it simple with our basic pie. House made dough and sauce, with pep and cheese caramelized to perfection
Chicken Drums - $16
1lb of roasted chicken drums tossed in our in-house mild sauce. Served with carros and celery sticks.
Ask for that special Longtooth Hot Pepper Sauce if you like it spicy!!!
Share-Ables
"DTF" Nachos - $14
Loaded up nachos that are "Down to Fiesta". Served with salsa and sour cream.
Add Shredded Beef $5
The Hat Trick - $17
Trio of House made dips that deliver the flavour! Bean & Garlic, Olive Tapenade and Dill Cheese. Served with made in house pita bread and an assortment of fresh veggies.
Irish Red Potato Poutine - $17
Baby potatoes, oven roasted and seasoned to perfection. Smothered in shredded beef and Irish red gravey then topped with 6 year Irish style cheddar and truffle oil.
Served with a side of horseraddish.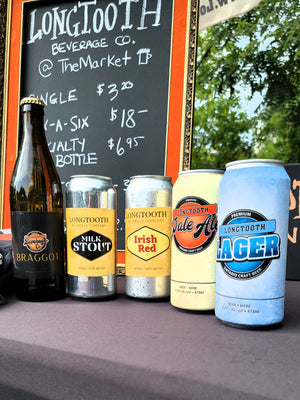 Our Full Selection Of Beers On Tap or To Go